Trimline Fires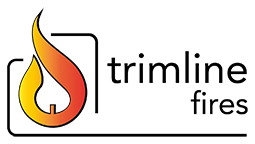 Trimline Fires fireplaces are modern and chic, filled with technological advances and suitable for almost any spot in your home. They are the beating heart of many a home and are fires that warm the heart.
Browse elegant gas fires, just as perfect in traditional interiors as they are in contemporary interiors. Or for a fully traditional look, why not explore the idea of a wood fire?
A fireplace offers a warm and inviting space to share stories and experience precious moments. Here at ELB, we are able to offer the ultimate luxury of a Trimline Fire. As we have an extensive range of different gas and electric fires.
The History of Trimline Fires
Trimline Fires was launched in 2019 which makes it a relatively new company; however it stems from ThermoCet. ThermoCet have been producing quality fires since the company was founding in 1974! This company was the child of two partners who shared a dream, one who brought the knowledge and the other who brought the materials.
Since their humble beginning in The Netherlands, ThermoCet have been able to expand over European, US and UK markets.
Trimline Fires for Sale at ELB Fire Showroom in Leigh
Vision Trimline fires are designed and engineered by a dedicated team based in the Netherlands. All the models in the range are balanced flue for maximum efficiency and are supplied as either LPG or natural gas. Vision Trimline balanced flue gas fires are efficient and effective fires, perfect for anyone who wants to combine stunning design with quality engineering.
Trimline Fires came from ThermoCet's popular Trimline series of fires. This range had been running for over 15 years and had enough behind it in order to create this brand new fireplace brand.
ELB Fireplaces will deliver up to 25 miles from our showroom. Ask us about our fast and free delivery service!