Category: Homepage | Published: 2 May, 2018
The best hassle-free stoves
Who doesn't crave an easy life, right? Whilst we're not saying that fireplaces and stoves are hassle-havens. Some may involve installations whereas others will require an already-there flue or chimney. If this doesn't sound like something that would appeal to you, then perhaps one of the below hassle-free stoves will be your saving grace instead.
What makes a stove hassle-free?
Here at ELB Fireplaces we have a range of Electric Stoves which are what we like to call our easy, hassle-free stoves as they need no full-installation nor a fitted chimney/flue to filter out smoke. They run off (clue's in the name) electricity and therefore do not need to be topped up with logs to keep burning. Too good to be true right? Wrong. These stoves are still incredibly stylish and will still provide your home with all the warmth that your traditional fireplace or stove would also boast.
Our top hassle-free stoves
Without further ado, here are our top-picks of the electric stoves that we have on offer. A unit which promises to be an atmospheric addition to your home, without the fuss.
The Huntington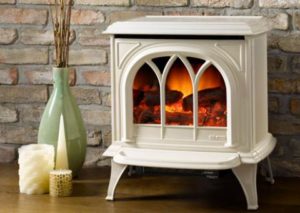 The Huntington is one of the most sophisticated hassle-free stoves we have to offer, yet also boasts the benefits of being electric. Therefore meaning it is free-standing and thus, a whole lot easier to own. This stove is easy to clean and is also easy to move to different areas of your home if you see it as fit to do so.
Our recommendation: we think this electric stove would work really well in a conservatory. The minimalist yet sophisticated design is easy enough to go with anything, but to also add a touch of class to any room (as well as warmth).
The Fireline FX 5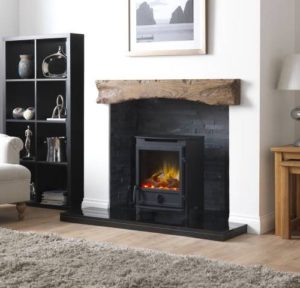 The Fireline FX 5 is another of our electric hassle-free stoves which hones in on being hassle-free. This stove has the element of choice with it also. Much like its traditional counterpart the 'wood burning stove', the Fireline FX 5 has the choice of either a curved or square cast iron door meaning you can tailor your unit to make it right for you.
Alongside its physical benefits, this stove is also traditionally designed meaning it can add a rustic, unique look to any home. The one-colour, black design means it is versatile enough to match any home decor, but also has enough design features to make it a staple piece.
Our recommendation: because of its ambidexterity, we think this fire would suit to live just about anywhere. However, we think it would work especially well in a main sitting/living room and would perhaps suit to reside in a 'hole in the wall', as pictured.
Chesney Salisbury 5
The Chesney Salisbury 5 is the last of our 'top picks of hassle-free stoves'. This stove has a similar design to the above Fireline FX 5, but has made its way onto our list for its practicality as a unit.
The Chesney Salisbury 5 has two heat settings meaning it is perfect for the warmer months as well as the cooler. Its LED display gives the realistic perception of a fire and boasts its charismatic benefits, without the fuss.
Our Recommendation: we think the Chesney Salisbury 5 would make a lovely addition to any room; however, why not try it in the kitchen? A fire in the kitchen you say? We actually think it's a great idea.
Looking for more fire/stove inspo? Why not get in touch with us today or visit our showroom in Wigan.
Enjoy this article or what to know more?