Category: Outdoors | Published: 5 Jul, 2017
Outdoor Fireplace vs Fire Pit
To get the best out of summer, it's vital you get your outdoor area right. While garden furniture is an important part of the al fresco experience, it's good thing to remember while it's nice to relax outside, it's not always going to be toasty warm.
In the UK summertime, a woolly jumper will only get you so far, that's why some consideration needs to be given to what type of heat emitting device you have installed.
Sitting around a fire taps into the Neanderthal in all of us. It's a place to relax, take stock and swap stories.
That's why every customer who has asked us to fit an outdoor feature has never looked back. Dinners, drinks and friendships can all be enjoyed under the stars and by the warmth of the fire with one of our installations.
And if you're wondering about whether smoke is an issue, it can be countered by the huge variety of smokeless fuels available on the market.
There's a number of options available, but the end decision all rests on taste, budget and the type of property you have.
We'll look at two of our most popular requests in this post  – the outdoor fireplace and the more traditional fire pit.
Outdoor Fireplace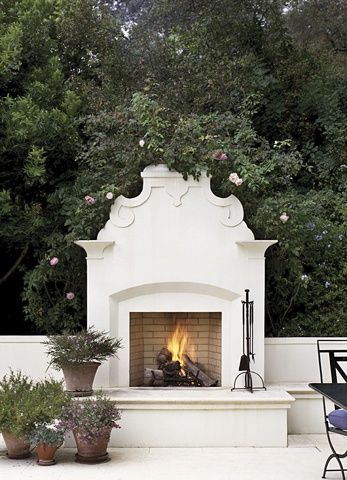 heidiclaire.blogspot.co.uk
Having an outdoor living room is on a lot of people's wish list. An outdoor fireplace is the focal point to this feature, and an inviting place to gather when the sun sets.
Not all properties can host an outdoor fireplace, it often demands some space and a position where it doesn't interfere with the enjoyment of neighbours next door.
An outdoor fireplace is a permanent fixture to a home. Once they are installed, they cannot be moved without expert help. This makes an enduring feature for your garden that's there for keeps.
However, in the right setting an outdoor fireplace provides the perfect outdoor solution to cool evenings.
Pros:
     

Creates a permanent feature

     

A very striking centrepiece to an outdoor arrangement

     

Blocks the wind a lot better
Fire Pits
countryliving.com
If outdoor fireplaces, with their connotations with indoor comfort, are popular amongst women, fire pits are generally a firm favourite amongst men. Sitting around a fire pit has a more ad hoc feel to it, evoking memories of childhood campfires and the great outdoors.
Fire pits are generally the cheaper option and can be set up without any specialist help. You also have the option of creating a permanent fire pit or purchasing a portable fire bowl.
You can also sit around a fire pit, whereas the fireplace option is more on a one-sided affair. This means you can generally entertain more people with a fire pit.
Pros:
     

Less expensive than a fireplace

     

Can warm more people

     

Easier to incorporate
For more information on how we can transform your outdoor space with an outdoor fireplace or fire pit, get in touch today. 
Enjoy this article or what to know more?