Category: Outdoors | Published: 27 Apr, 2017
Other things you can cook in your pizza oven
We're big fans of the UUNI 2 Pizza oven. It's a huge asset to al fresco dining in the summer, and great when entertaining friends and family. 
But the fun doesn't end with pizzas. There's a loads of things you can cook, roast and grill on the UUNI 2 pizza oven.
If you're stuck for inspiration – follow these easy recipes to get the most out of your pizza oven.
Lamb koftes
This Turkish recipe is perfect fodder for a great barbecue. Makes 8 – 10 "fingers"
Credit: Uuni
What do you need?
2 small onions

1 small bunch of parsley

1 small bunch of mint, leaves only

375g lamb mince

375g beef mince

50g toasted pine nuts, roughly chopped

1½ tsp ground allspice

1½ tsp ground cinnamon

½ tsp grated nutmeg

1½ tsp black pepper

1½ tsp salt

Oil, to grease
Method
Grate the onions, place into a sieve or strainer to remove the liquid and put into a large bowl (too much liquid could stop the kofte from keeping it's shape during cooking).

Finely chop the parsley and mint and add to bowl.

Mix in the meat, pine nuts, spices and salt until thoroughly combined

Shape into fingers and cover. Chill for at least an hour.

Once rested, place the kofte on a preheated and oiled sizzler pan. Cook until golden brown on all sides.

Serve in warm pittas with fresh salad and tzatiki
Pizza Nachos
The perfect snack for sharing over good conversation or just watching a film.
Credit: TastyKitchen.com
What do you need?
1-½ tablespoon unsalted butter

½ tablespoons olive oil

3 cloves garlic, minced

120ml heavy cream

60ml semi skimmed milk

1 pinch salt

1 pinch cracked black pepper

1 pinch red pepper flakes

¼ cups Parmesan cheese, grated
For the nachos:
A large bag of tortilla chips

¼ onion, diced

125g pepperoni, cut into bite size pieces

5 black olives sliced

½ whole green pepper, seeds removed, diced

200g grated Cheddar cheese
Start by making your sauce. Begin by melting the butter, along with the olive oil on medium to low heat.

Once melted, toss in the minced garlic, and give a good stir. Raise the heat up to medium, to medium-high.

Add in the cream and milk and give a good stir. Keep stirring until it comes to a boil.

 

Toss in the salt, pepper, and chilli flakes, along with the cheese, and continue stirring.

 

The sauce will thicken pretty quick, so continue to stir. Once the sauce is thickened, remove from the burner, and set aside.

When you are ready to make your nachos, stick into your hot pizza oven. I used a cast iron fajita frying pan for this. If you do not have one, don't worry, simply build your nachos on an ovenproof dish.

Add your chips and drizzle the garlic cream sauce all over.

Top with the onions, pepperoni, olives, and pepper. Make sure you get in there and do some great layering, leaving no chip behind.

Top with the Cheddar cheese. Place in the preheated pizza oven, and cook until the cheese is nice and bubbly and the chips are warmed through, roughly 7 minutes or so.
Lago di Como Bread
This recipe makes two of these Italian-style loaves that should weigh around 800g each. The perfect bake should have a well-developed crust and bubbly but firm bite.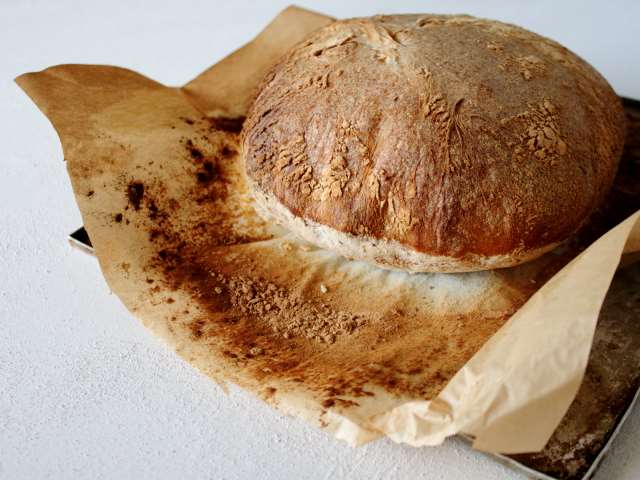 Credit: WoodFiredKitchen.com
Photo Credit: ThemApples.co.uk
700ml water, lukewarm – around 20º c

300g all-purpose flour

60g rye flour

120g spelt flour

1 tablespoon ground flax seed

2¼ teaspoons salt

1 teaspoon yeast
Extras
180g all-purpose or bread flour

85g flour for bench work
Two notes: This is a wet dough that requires a plastic bowl scraper in order to work it properly. If you don't have one, you can cut a plastic lid in half and use that. For best results, let rise in a cool place (60º) overnight. If you really must have it in less time, use 2 teaspoons of yeast and let rise at room temperature.
To make the dough:
Put first seven ingredients into the bowl of a Kitchenaid mixer, insert the dough hook, and mix on mark 2 for 10 minutes to make a smooth batter.

Add 1½ cups additional flour and continue mixing for a further 7 – 10 minutes, scraping the sides and bottom of the bowl twice to incorporate all the flour.

Cover and let sit for 20 – 30 minutes before kneading. This dough can also be mixed by hand in a large bread bowl.
Knead the dough:
Generously flour a work surface and pour the wet dough onto it, scraping clean the bowl.

Using the plastic dough scraper, pull the 4 corners of the dough in to the centre and let sit for a few minute.

Repeat. Working with as little flour as possible, knead the dough for 7 minutes, scraping the counter as necessary.       
1st rise: Put dough into a clean bread bowl, cover with a teatowel and a piece of plastic wrap. Let rise for 6-8 hours or overnight.
2nd Rise:  Use the scraper to pull the sides in from the bowl to deflate the dough. Let rise another 6-8 hours or overnight (this leeway depends on when you make the dough).
Shape and put into baskets:
The loaves will need to rest in baskets for 1 hour and 45 minutes before baking, so when using a woodfired oven pay attention to the timing.

Turn the dough out onto a floured work surface.

Divide the dough into 2 equal parts (about 28 ounces each).

Without pushing too hard, press the largest bubbles to the edge and release the air at the edges while keeping the rest of the dough springy.  

 

Tuck the edges under lightly to make mounded balls, and place these on floured cloth napkins in bread baskets.  

Sprinkle the tops with flour and bring the corners of the napkins over to meet loosely on top.

Let rise for 1 hour and 45 minutes.
Baking in a woodfired oven:
Your fire should be at least 1½ hours old, and 2 hours old in winter.

Push the mature coals to the back centre of the oven, near the wall, and brush the ashes off of the floor.

There should be 6 to 8 fist-sized chunks of glowing hardwood coal and a good bed of embers, but little or no flame when the loaves go in.

Turn the loaves out onto floured peels.

Shape lightly, tucking edges under without deflating the dough.

Slash a design if desired.

Slip each loaf into the oven to have a long side parallel to and 8 inches from the coals.

Close the door.

After 20 minutes, turn loaves so the other side faces the fire.

After 20 minutes, turn loaves so one end faces the fire.

After 10 minutes, turn loaves so the other end faces the fire.

After 10 minutes, remove to cool.
Right, that's made our mouth water! Time to crank the Uuni 2 up 🙂 Have you got any pizza oven recipes you want to share? Let us know!
Enjoy this article or what to know more?