Category: Marble Fireplaces | Published: 27 Feb, 2016
Marble Fireplaces in Worsley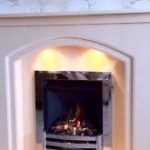 Marble fireplaces in Worsley can change the way your sitting room looks. If you are looking to have a fireplace installed, why not consider a marble fireplace from ELB Fireplaces? Marble has been used for centuries for its beautiful qualities, and classic and elegant looks. Marble is known to enhance the feel of any room. The natural imperfections within marble makes every piece unique.
In Worsley, marble fireplaces of different kinds can be obtained from ELB Fireplaces. They have a large selection of designs to choose from. These include the Destiny and the Nirvana designs, both of which will make your fireplace the focus point of the room. If you visit their well-stocked show room, you will be able to see the many different designs of marble fireplaces they have on offer. ELB Fireplaces know just how a fireplace can be the perfect centerpiece for any home, and that is the reason they have the perfect selection of fireplaces for you to choose from. Questions are gladly answered as they are committed to excellent customer service. Not sure what the most suitable marble fireplace for your home would be? Not a problem, the experts will advise you and offer suggestions.
Marble fireplaces in Worsley are affordable, durable and versatile. Once you have made your choice in fireplace, rely on the highly trained experts at ELB Fireplaces to install it for you. Their team of experienced in-house fitters are Gas Safe and Hetas registered and will provide a reliable installation. For over 30 years this well-established company has been supplying and installing fireplaces and stoves to their customers. Offering many different types of fireplaces and stoves from small fires to grand luxury fireplaces, they are committed to providing a premium service and product. If you are interested in marble fireplaces and would like more information, contact ELB Fireplaces.
Enjoy this article or what to know more?