Category: Marble Fireplaces | Published: 19 Jul, 2016
Marble Fireplaces in Wilmslow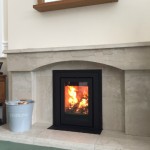 At ELB Fireplaces, customers often ask what makes marble fireplaces in Wilmslow so popular. After all, the fireplace itself is usually an insert that may be gas, electric or wood burning. It may exhaust out a chimney, stove pipe or be fluless. Some choose a wide-open grate and others prefer glass doors. The workings of a fireplace need installation by professionals for safety. However, the mantle or decorative framework for your fireplace can be almost anything you can think of. Hand carved or machine made mantles come in all sizes and materials. You can choose beautifully finished timber, huge boulders or fine stonework. Designs range from Victorian ornate to modern minimalist. All have their own special beauty determined by the location from which the marble was mined.
In Wilmslow, marble fireplaces is the choice for mantles for several reasons. One reason is durability. Two-hundred years from now the marble fireplace mantle will still be standing. It will still be stylish as well because the beautiful hues in marble will complement your space-age décor just as easily as it complimented great-great-grandmother's velvet parlour furnishings. It is as timeless as the earth itself. Keeping marble beautiful is very easy. A damp cloth is sufficient for removing dust. Marble lends a touch of elegance and good taste to any room setting. Family rooms and living rooms are popular choices when installing a fireplace. However, a beautiful marble fireplace in your bedroom will turn it into a cosy retreat.
ELB Fireplaces recommends marble fireplaces in Wilmslow to those who want permanence. Since marble is heat and fire proof, it is ideal for safety-oriented people. It is also waterproof. ELB Fireplaces has a huge selection of marble fireplaces. You will be inspired when you view them in our showroom. Most any of our marble fireplaces can be customised to suit you in style and size. When you find your marble fireplace, trust our installers to reproduce the look in your home. We will work with you to choose a marble fireplace that can be adapted to your home. If there is no place through which to vent a gas or wood burning fireplace, then perhaps a vent less fireplace or electric would suit. ELB will have your solution. For marble fireplaces, contact ELB Fireplaces.
Enjoy this article or what to know more?