Category: Marble Fireplaces | Published: 4 Oct, 2016
Marble Fireplaces Altrincham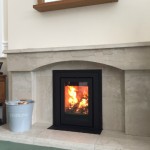 Marble fireplaces Altrincham may be gas, electric or wood depending on what works best for your home and preferences. Every kind of fireplace looks good surrounded by marble. For elegance, durability, and easy care, marble fireplaces are an excellent choice for any setting. With the right mantle and accessories, marble fireplaces will even accent a rustic setting. With so many designs from which to choose, one will be perfect for your home. Maybe you are thinking of refurbishing your master bedroom and want to add a fireplace. ELB Fireplaces has sleek modern designs like the Oviado, as well as traditional exemplified by the Portia.  One design, the Chesney Versailles in white marble, may remind you of a wedding gown.
Every design in our showroom can be customised to fit your space. In Altrincham, marble fireplaces take on added pizazz when subtle lighting is added to highlight the art that nature created. Why not highlight it? There are no two the same so you do have a unique creation. Two of the same design will still have different colour distribution and hues. Marble makes a statement no matter in what room you fit your fireplace. There is a reason sculptors choose marble. Word associations might be permanent, solid, eternal or cool. Because marble can be polished to a smooth high gloss it is always associated with beauty.
When you visit our extensive showroom you will have an opportunity to get answers to all your questions about marble fireplaces in Altrincham. We have been in business for over thirty years so there isn't much we can't answer. Contact ELB Fireplaces if you are looking for more information about marble fireplaces, and to have an understanding of the benefits of each type of fireplace, wood, gas or electric and which would best suit your home and your lifestyle. Our professional Hetas and Gas Safe installers will evaluate the locations in your home you choose for installation. They can make most locations work for a professionally fitted fireplace. We supply individuals and the trades with a broad range of fireplaces from the many manufacturers we have chosen to associate ourselves with through the years. We think you will love your new marble fireplace.
Enjoy this article or what to know more?