Category: Chesney Fireplaces | Published: 26 Oct, 2014
Light a Fire Safely in Chesney Stoves in Bolton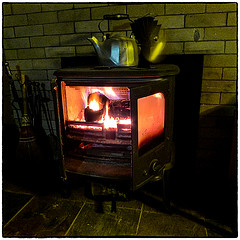 Are you looking to invest in Chesney stoves in Bolton? Wood burning fireplace stoves look attractive and elegant but it's important to light them the right way. Although lighting a wood burning stove is a fairly easy job, the room may become smoke-filled if not done correctly. For starters, determine if the damper is open. The damper is a lever in the flue (duct) that can either open or close. You should keep the damper open before starting to light the fire so that the smoke can escape through the flue. If you forget, the smoke is likely to pour into the room. Modern wood burning stoves are built to be energy-efficient and use less fuel compared to older models. The next step in lighting the fire involves opening the glass doors of your stove. Cold air can get trapped in the stove and make it slightly difficult to get a fire going. Open the doors and allow the air in the fireplace stove to come to room temperature first.
Customers in Bolton prefer Chesney stoves because of their appealing looks and excellent functionality. You can choose from the latest models at ELB Fireplaces. Once you have closed the damper and opened the doors of the stove, it's important to ascertain that the draft is going upwards and not downwards. You can try heating the upper part of the heater first. The air will get sucked up the chimney and your stove is ready to be lit with the help of newspaper or tinder.
ELB Fireplaces stock the best Chesney stoves in Bolton. Many factors play crucial roles in the selection of a durable fireplace stove. The area to be heated, design, fuel prices and frequency of use are all important issues in your decision. The wood-burning stove that you choose should be able to blend in with the decor and look. For more information, ring ELB Fireplaces on 01942 607 250.
Enjoy this article or what to know more?