Category: Stoves | Published: 3 Apr, 2017
What is the installation process for fitting a wood burning stove?
Installing a wood burning stove should be carried out by a professional – luckily, the installation team at ELB Fireplaces are the best in the business!
Before a wood burner is installed, the chimney needs to be checked for fire safety. If not done already, the chimney needs to be lined and insulated. The reason for this is as most heat is transferred into the room with a stove, the smoke is generally a lot cooler in temperature than normal fireplace smoke. This has the result of the cooling smoke to condense, leading to excess soot and tar deposit. This has the risk of causing chimney fires, and tarry condensate leaking out at the bottom and sometimes through the mortar joints of the chimney.
Fitting the stove to an existing fireplace
In our installation process, we make sure to adhere to building regulations by making sure the stove sits on a plinth of non-combustible material, which extends to at least 150mm at the sides and 300mm in front.
We also ensure that we fit a register plate. This is to a plate that seals off the throat of the fireplace and has a flue pipe hole, a sweeping access and a bracket to support the flue pipe. This flue pipe needs to connect to the stove from the register plate.
We normally make the register plate ourselves, as it must fit your specific chimney. We also supply the flue, fixtures and fire cement if necessary. This allows us to be a one stop shop for all types of wood burning stove installations.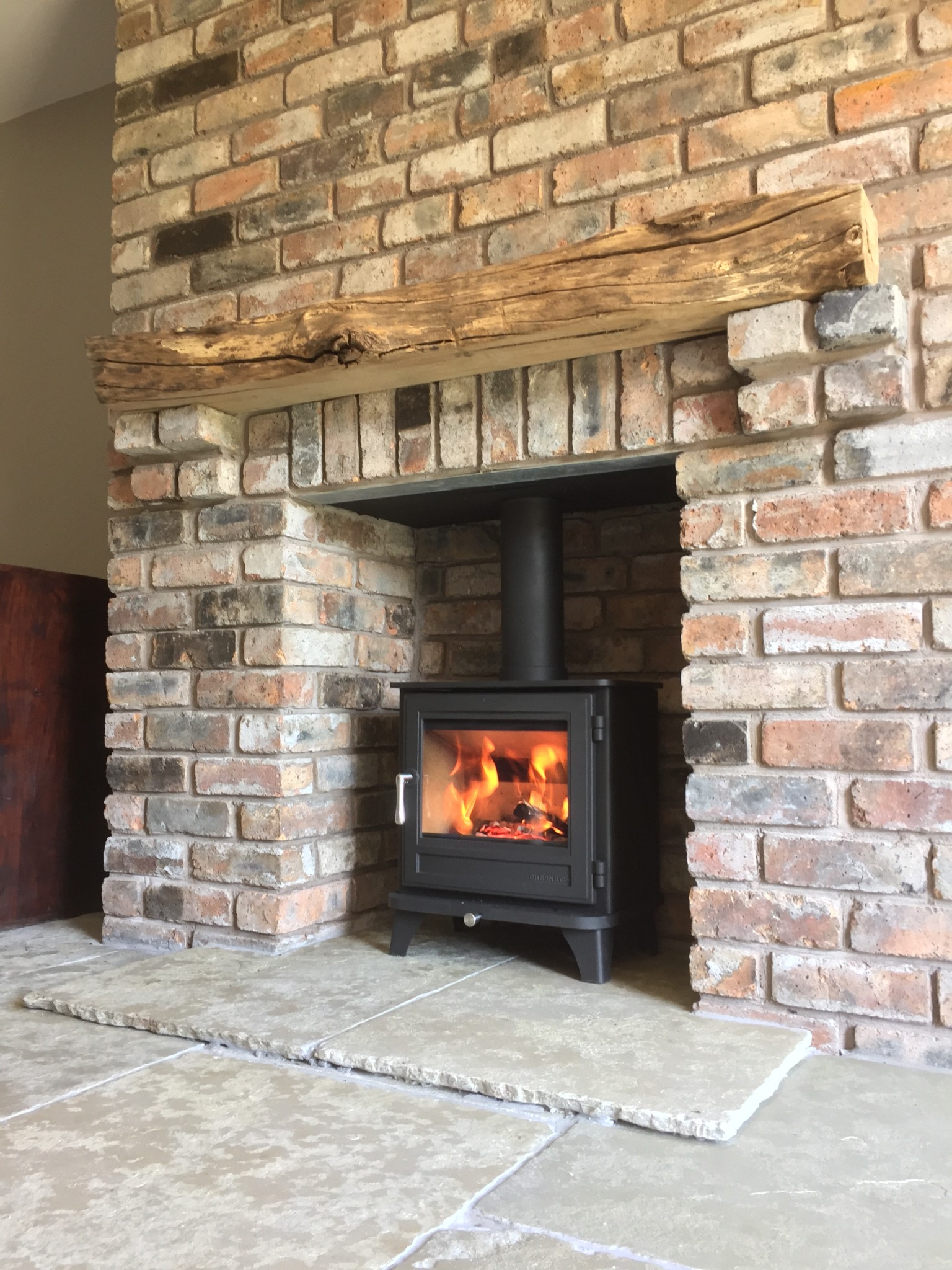 Fitting a freestanding stove
With a little help with a twin wall insulated flue, we can install a stove pretty much anywhere – even there is no existing chimney. This allows us to be flexible and work in new builds as well as period properties.
We would need to see the room you are wanting your stove to be fitted – either with photos or on a visit, and with the help of some floor to ceiling measurements of the room the stove is to be fitted, the thickness of the floors, the pitch of the roof and where the flue will penetrate the roof.
After all this calculated, and if it is safe to do so, we can process with the installation, and will work alongside a builder throughout the works.
Installing a wood-burning stove will be a decision you'll be glad you've made. To get the best craftsmanship and finest stoves, call 01942 607 250 or contact us here and we'll get back to you as soon as possible.
Enjoy this article or what to know more?