Category: Chesney Fireplaces | Published: 9 Sep, 2015
Great Selection of Chesney Stoves in Swinton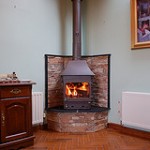 For someone looking for Chesney stoves in Swinton, it might be tempting to choose three and compare different stores before buying. However, ELB Fireplaces could end your initial shopping round pretty quickly. The stoves offered at this store are gas and electric to wood and multifuel, which can fulfill a lot of clients' needs. You don't necessarily need to be a connoisseur to be able to shop and select a high quality stove at ELB Fireplaces. The staff can help you from start to finish when it comes to the best stoves, and make a perfect installation with your selection.
In Swinton, Chesney stoves can be of interest to customers who also want to know who ELB Fireplaces is in terms of reputation. A long-term installation such as a stove should be preferably made by professionals who are qualified and skilled. ELB Fireplaces have been serving the area for over 20 years since being established in 1982. Their installers are Gas Safe and Hetas registered.
Chesney stoves in Swinton can be discussed on-site to provide a good idea of what the possibilities are. The sizes can vary and ELB Fireplace is able to advise you on the topic. What you're looking to do with the stove and important topics such as the quantity of fuel or if another type of energy would be better for you? ELB Fireplace will be able to redirect you to a more suitable type of stove for you and the area you live in according to the regulations in place. ELB can stick to your budget and give you the maximum satisfaction according to your budget and the specifications you've given. Chesney stoves are elegant, yet practical, adding warmth and homeliness to any room, instantly adding to the overall value of the home. If you are considering purchasing Chesney stoves and would like more information, contact ELB Fireplaces.
Enjoy this article or what to know more?