Category: Gas Stoves | Published: 12 Aug, 2016
Gas Fires in Bowdon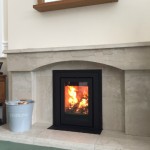 The many gas fires in Bowdon include inset, balanced flu, fan flued, outset, hang on wall and hole in wall. ELB Fireplaces supplies all of them. You may wonder what all those descriptions mean. After all, you just want a fireplace. Those descriptions mean you can likely have your fireplace. If you have an old wood burner, replace it with an inset fireplace and use the current flu. Hang on the wall and hole in the wall are gas fireplaces designed for spaces where no chimney exists. The units are glass fronted, sealed and vented through an outside wall. You can put a fireplace just about anywhere these days that will add ambience to your living space and produce cosy added heat during winter months.
Consumers are conscientious about energy efficiency and in Bowdon, gas fires meet that need. Glass fires use very little energy. You do not have to have the glass doors open to ventilate which causes heat loss up the chimney. Instead, doors stay closed, toxic materials vent through an exhaust and the heat stays inside your home. If the room temperature is comfortable, leave the fan off. If you want to up the room temperature, turn the fan on and forced warm air will fill the room. Turn the gas fire down low to create a cosy atmosphere without adding heat while you take a forty-minute break to relax.
One big advantage to gas fires in Bowden is the cleanliness and convenience. Hauling in wood for a blazing fire may emotionally connect us to our robust forebears. However, it also connects the house to dirt, earwigs, beetles and termites. Most of us would prefer to arrange flowers in ash buckets. We do not like to haul inky ashes through the house and out the door. Truly, gas fires are the way to go. Contact ELB Fireplaces and view the beautiful designs of our gas fires from traditional to contemporary. Choose the one that appeals to you and ELB fitters will professionally install it in your home. They are all Gas Safe certified. Now, whenever you want a fire, just turn a lever and enjoy.
Enjoy this article or what to know more?