Category: Fireplaces | Published: 18 Apr, 2018
Can you get a fireplace if you have young children or pets?
Fireplaces make a great edition to any home; they're comforting, warming and stylish. Some people, however may wonder whether their home can accommodate a fireplace for various reasons. With children and pets being one of the biggest.
Children are notoriously clumsy, and pets love to explore so one has to question whether a fireplace would be suitable in such an environment. For young children and smaller, more curious pets then it is perhaps best to err on the side of caution with certain fireplaces. This doesn't mean, however, that you have to rule the idea of one out altogether – just that you have to take a few additional precautions.
Here at ELB Fireplaces we're passionate about what we do, and want to ensure that we get it right for you every time without fail. Therefore, we have put together a few tips for getting a fire if you have young children or pets. (And fear not, not one of our tips involves the words 'don't get one at all').
Tip 1: be precautionary with your fireplace
Anybody who has, or has had small children in the home will know that they are forever wandering, encountering countless bumps and bruises along the way. One of the best methods of prevention is to simply pad everything out, and this goes for your fireplace too. You can pick up kits on the high street that contain padded edges and guards that will be able to safeguard your fireplace from your little explorers. Meaning you really can have the best of both worlds.
Our recommendation
We stock a wide range of bespoke fireplaces here which, although are voguish and are a perfect aesthetic addition to any home, also carry a few safety hazards.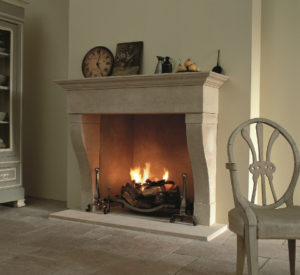 The Marseilles, for example, is a sleek and stylish fireplace but is one that should be protected around young children and pets. A few padded protectors for the corner pieces and a child friendly gate for a few years will not only keep your little one protected, but your fireplace too.
Tip 2: keep it out of reach
Perhaps one of the best ways of getting around the 'kids and pets' issue is to get yourself a fire that cannot be reached by little arms… (or paws). We offer a wide range of fires which mount on the wall, boasting the 'style-appeal' but also the safety appeal too. Prevention is better than cure and preventing your little ones from getting anywhere near to your fire is the best way to get around the matter.
Our recommendation
We stock a huge offering of wall mounted fires, so it is hard (truth be told) to choose just one.
Though we don't take favourites (we're not biased). The GFP 700 is a nifty little fire which is versatile yet elegant and is perfect for keeping little wanderers at bay.
Tip 3: look at alternatives
We promised that we wouldn't tell you that you can't have a fire with young children or pets, and we stand by it. It is, however, sometimes worth looking at the alternatives as you never know what may take your fancy.
There are a range of stoves which boast the same benefits of a fire or fireplace (both visual and practical) yet are a lot safer around young children and exploring pets. Whilst you still need to watch your little ones around stoves, they are safer in the sense that they typically have a door which keeps the heat and fire at bay. Or, you could even go that extra mile to safety and get an electric stove which reduces the risk even more.
Our recommendation
You don't have to compromise on style in order to be safe. Here at ELB Fireplaces we have a whole range of contemporary, electric, wood burning and inset stoves that are available to take your fancy.
We'd recommend a stove such as the the Huntington, which brags a sophisticated design alongside the added benefit of safety. The stove door helps keep it secure around small children and pets. Plus, the fact that it is electric and free standing means that it can be easily moved around out of harm's way.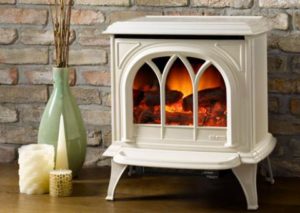 Whatever you chose, here at ELB Fireplaces we are with you every step of the way. For more advice on what fire or stove to get with young children and/or pets, get in touch with us today for expert advice and recommendations.
Enjoy this article or what to know more?