Category: Homepage | Published: 27 Dec, 2018
Give your Fireplace or Stove a Pre-Spring Makeover!
If your fireplace or stove is looking a little grubby and sooty after the winter, there are a few, very straightforward ways to return it to its former glory and even possibly give it a whole new look. Read on for a few ELB Fireplace tips and tricks for the perfect fireplace makeover.
Step 1: Making Preparations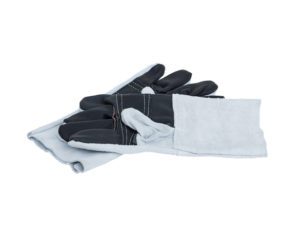 Fireplaces, fires and stoves are always easier to clean soon after having a very hot fire, as this helps to loosen any grime. However, for your own safety, you should make sure that your fire is completely cold before you begin!
Furnish yourself with protective clothing and gloves, remove any nearby rugs and shield carpets, floorboards and furniture with plastic sheeting or other coverings. Knee pads or a cushion to kneel on will be a welcome comfort after a few minutes' of kneeling to clean. You should also prepare yourself with either a bin bag or a solid, straight-sided container; you may find the latter is best, as ash is extremely light and easy to disturb, so can be difficult to pour into a bag.
Top tip: To help with the removal of stains from glass, it may be worth retaining some of the paler, finer ash for later.
Step 2: Clearing it Out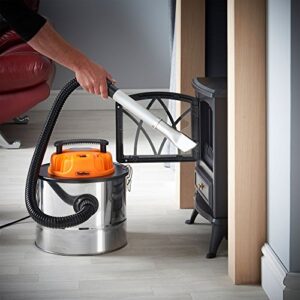 It's always best to clean your fire or stove from the inside out. If the grate still holds the remains of your previous fire, pick out the larger pieces using either fire tongs or your gloved hands. Bag or box them up, then use a dustpan and brush to remove as much of the ash and soot as you possibly can, adding this to the waste container too.
Fires or stoves with ash dumps are a little easier to take care of, as you can tip these straight into your container. If you've been burning wood in your fire, you should definitely consider spreading these end products on your garden, as they serve as excellent fertilisers.
Once your fireplace or stove is as clear as possible, use a hoover to suck up any excess soot (we find that it's best to remove any attachments first, as they will just get dirty and spread soot around the rest of your home).
Step 2: Stone and Brick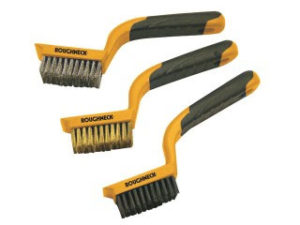 Now you can start on the finer details. Warm, soapy water, a couple of sturdy sponges and a stiff bristled brush often works a treat to remove dirt from the hearth, although a cream of tartar paste made with a little water will go much further if you want to completely remove soot stains from stone or brick. Simply leave this on for ten minutes, then wipe off with warm water. Remember to change or thoroughly wash your sponge and brush regularly to avoid spreading the dirt around.
Step 3: The Body of the Fire or Stove
If you have a stove or a modern fire unit sitting within the fireplace, your approach should depend on its finish. If it's painted or varnished, attacking it with a tough brush or steel wool may cause scratches and dullness. Using these methods are fine for cast iron fireplaces, however, as they are denser and more impenetrable. Steel wool, in particular, puts an end to any appearance of rust – just be mindful of using this on more delicate surfaces!
Painted stoves and fires can be cleaned with soft sponges, microfibre cloths and warm water containing a few drops of vinegar or a little bicarbonate of soda. This home remedy is inexpensive, yet extremely effective. There are also purpose-created chemicals for cleaning stoves however, so if you find that the natural options are not working as well, you may need a little more industrial action, so it may be worth looking into these to grant your fireplace some TLC.
Step 4: Glass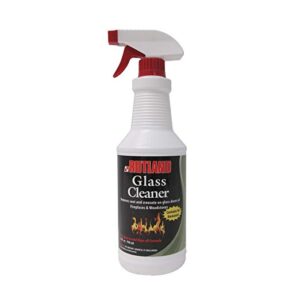 Multi-purpose glass cleaner and polish will work wonders on windows, glass fronts and panels – just be sure to use a fresh cloth when you start on this part!
For any soot stains that are a little more stubborn, don't reach for the steel wool (as this will cause scratches that you won't be able to shift) – an unusual trick is to make a paste with the fine ash you retained earlier along with a little warm water. Using a cloth, gently rub the paste into any stains – the calcium carbonate and natural alkali it contains will help to strip them off. It works wonders.
Step 5: Finishing Touches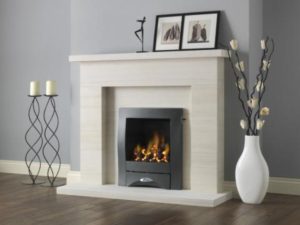 Now that your stove or fireplace is perfectly clean, you can turn your attention to its surroundings. There are dozens of ways you can revolutionise its look and keep the area clean and tidy, from polishing or painting its surround to cleaning or replacing the grout between any tiles for a fresh, sharp border. Draw the eye towards it by laying down a gorgeous new rug or arranging your furniture and lighting differently to make it the focal point of the room.
Plants always look fantastic on a mantlepiece or beside a fireplace too – consider obtaining hanging, trailing or climbing houseplants to create gorgeous natural lines, complementing the structure.
You can even completely change a fireplace's colour with specialist heat resistant paint or fresh tiling, and you should also consider replacing or re-painting any elements that look a little worn, as this will make a huge difference to its overall appearance.
Of course, there may come a time when you decide that your beloved fixtures require replacing altogether. At this point, all you need to do is contact ELB Fireplaces – our fires and stoves are beautifully designed and very simple to clean!
Enjoy this article or what to know more?