Category: Electric Fire Suites | Published: 30 Jul, 2018
The Gas Fireplace vs. The Electric Fireplace
If your home wasn't built with a fitted traditional wooden fireplace, then installing one can be an expensive and arduous process. The good news however, is that modern day innovations can offer many reasonable alternatives. These can come in the form of either a stove, a gas fireplace or an electric fireplace.
But, which is better? If you're seeking an alternative to a 'built-in fireplace' – then a stove may not be what you're looking for. The decision between a gas or electric fireplace however, may not be as simple as this. To help your decision just that little bit easier, we've weighed up the benefits of both.
The Gas Fireplace
Gas fireplaces first came into prominence as a popular alternative to wood-burning fires. This was mainly down to their efficiency, price and cleanliness. Wood-burning fireplaces used to create a lot of smoke and soot, whereas gas fireplaces removed these by-products entirely. Not only this, but the relative speed in which a gas fire could alight was much greater than that of your traditional wood fireplace. Come the 1900s, gas fireplaces had become a popular alternative to their wood-burning predecessor.
If your house has a pre-existing gas line, then you can introduce a gas fireplace without any other modifications, making it a relatively easy installation. If your home does not have a gas line however, then the installation of one can become complicated.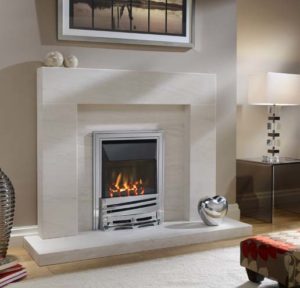 Benefits of the Gas Fireplace
It has been a popular alternative to the traditional fireplace for decades. Making it trustworthy and reliable.

The gas fireplace is known for its high heating speeds and cost efficiency.

They create real flames – promising that warming ambient effect.

Traditional gas fireplaces weren't typically the most appealing on the eye. Now, however, you can

browse a wide range

of aesthetically pleasing gas models. There's a style to suit all.

They are easy to control. To tame the flames of a gas fire you simply have to reduce the gas flow (this is often done through a remote or a button).

Gas fireplaces are environmentally friendly. With no wood being burned or smoke emitted, gas fireplaces have zero emissions.

They are more efficient in heat generation than both electric and traditional fireplaces.
The Electric Fireplace
The first electric fireplace was invented in 1912 but they only became popular in the 1950s, so slightly later than the gas fire. They are well known for their ability to imitate a roaring fire through visual lighting affects, but without producing any of the harmful emissions.
Electric fireplaces are often easy to install and are a popular choice amongst those with no flue or gas line to fit an alternative fireplace model.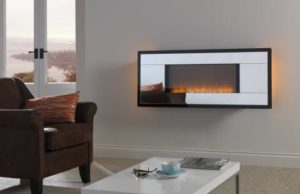 Benefits of the Electric Fireplace
They are suitable in most rooms due to their total versatility. You can mount them on the walls or have them on the ground with a surrounding mantle

They do not require a chimney, flue or a gas line – meaning anyone can have one fitted and remodelling is not typically required for installation

They are much safer to use than gas or traditional fireplaces. Electric fireplaces are built in a way so that they do not transmit heat, thus reducing the potential hazards that their gas or traditional counterparts may have

They are clean and easy to maintain compared to a traditional fireplace or even a stove
There are a wide range of electric fireplaces in varying designs. From modern and contemporary to more traditional and conservative, there's bound to be a style to suit your home decor  
Gas or Electric? Which is better?
Both have their fair share of pros and cons, but can one ever outweigh the other?
We say that when it comes down to the debate of gas vs. electric, it really does depend on your home and circumstance. If your house is equipped with a gas line then a gas fireplace would be easy to install and you can then enjoy its warming, efficient and environmentally friendly benefits. On the other hand however, if your house is without a free gas line then the installation of a gas fireplace can be tricky and expensive. In this case, a contemporary electric fireplace may be the one for you. Boasting the benefits of being less hot to the touch and generally safer – this model may just be the one for you.
For more information on which fireplace is right for you, contact us today.
Enjoy this article or what to know more?