Why Choose ELB Fireplaces
ELB Fireplaces have been supplying Fireplaces and Woodburning/Multifuel Stoves to the public and builders for over 30 years. ELB Fireplaces are based in Leigh and have a large selection of over 100 live displays ranging from Limestone Fireplaces, Marble Fireplaces, Wood Fireplaces. Woodburning and Multifuel Stoves, Gas Fires, Flueless Fires, Electric Fires and many more.
Contura Are The Leading Manufacturers In Stoves
Swedish owned Contura are creators of quality stoves and ensure that the stoves are suitable for the home and conditions. They are one of the biggest producers of stoves across Europe and here at ELB Fireplaces, we are proud to be stockist of this leading manufacturer.
Their products are sold throughout Europe and are appreciated for their timeless design, efficiency and high quality. Moreover, are proud to be one of the largest producers of stoves in Europe.
Due to this, all the of the stoves created in the Contura factories are painstakingly checked over by their own quality control to make sure it is of the highest standard. They combine a high energy output with an outstanding style unlike other wood burning stoves on the market.
Contura pride themselves on only creating the best, and if it's not up to their standards then it doesn't get sent out to customers.
Contura Only Produce High Quality Log Burners
Here at ELB Fireplaces we sell Contura wood burners which are ideal for bringing warmth into any environment. As a leading manufacturer of wood burning stoves in Scandinavia and across Europe, the log burners are of the highest standards of quality, efficiency and timeless class across the entire log collection.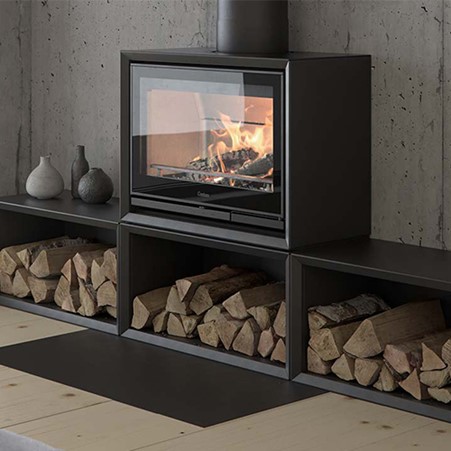 Why Buy a Contura Wood Burning Stove?
Contura wood burner stoves offer a high energy output and outstanding style that is unlike any other on the market. In addition, all log burning stoves are available in several models and sizes with many smart accessories.
Furthermore, log burners from Contura are appreciated because they show much of the fire. This makes it easy to position, even in small spaces. Due to their large glass areas, in most models' flames can be seen from at least three sides. The modern wood burning stoves are available in most shapes, round, angular, oval, tall, low, narrow or wide.
Interested in the Contura Wood Burning Stoves, visit: https://www.contura.eu/en-gb/stove-collection to find out more.
Size is The Most Important Choice When Buying a Wood Burning Stove
Contura has sizes ranging from the small log burner for the cottage to majestic installations for large reception rooms, and not forgetting everything in between. It is important to measure the space where the stove is to stand and check the distances to flammable materials.
Additionally, when you buy a complete fireplace from Contura you always get a five-year factory warrant, good service and parts availability are additional assurances during the service life of the stove.
Contura Stoves For Sale at ELB Fire Showroom in Leigh
If you're looking to purchase a wood burning stove from a company who focuses on being as efficient as possible, then look no further than Contura.
Our Leigh based showroom has plenty of stoves, fireplaces and fires on display for you to browse. We are sure to have a design that would fit right into your home!
Come and visit us at our showroom in Leigh!