Category: Fireplaces | Published: 14 Nov, 2018
A Contemporary Christmas – Give Your Modern Living Room a Festive Feel
Subtle and smooth has been the desired look for living spaces throughout the last few years. Sharp lines and minimalism show no signs of going out of fashion, while clever hidden storage options and a pared-back take on furnishings never fails to leave rooms looking clean and uncluttered.
So what happens when Christmas rolls around? Tinsel, glitter, stockings and all of the other trimmings come as part and parcel of the holiday season – a potential nightmare for homeowners who thrive in the midst of simplicity and tidiness!
Here are a few tips to keep your home just how you like it while adding that little extra festive twist.
Keep to Your Colour Scheme
Many people think of Christmas colours as red, rich green and gold – a palette that doesn't often lend itself to sleek contemporary design. If you take your time and pay the right amount of attention to detail, however, you may succeed in selecting decorations in these colours that provide the right contrast with your existing scheme. This isn't the only option, by any means. Picking out tasteful and stylish trimmings that blend in with their surroundings while adding that little touch of Christmas cheer is a technique that can really work wonders. Subtle silvers, bronzes, dove greys and burgundies are perfect muted winter shades for this purpose.
Choose Decor That's Festive and Functional
Stick to your minimalist preferences and simply invest in seasonal alternatives to your existing home accessories. Replace a lampshade with a slender candelabra fitted with subtle gold candles. Keep the table decorated with elegant napkins, coasters and placemats in festive designs. A tablecloth and runner with an attractive wintry pattern will also work wonders. Everything from curtain ties to couch cushions can be swapped to great effect without changing the overall theme of your interior design.
Light a Fire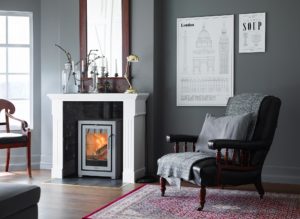 It's a simple change, but it can completely alter the feel of a room. If you own a fire or stove, rearrange your furniture slightly so that this – not the TV or dining table – is the focal point of the space. When it starts to get a little grim and dark outside, pile it up with fuel and light it (when you do this for the first time this year, definitely consider getting the chimney cleaned first to prevent a smoky sitting room or, worse, a fire hazard)!
If you don't currently own a fire or stove, do you have an old fireplace in the room, and are the chimney and flue still accessible and safe to use? It may be worth getting this checked out by a specialist, as you might be able to obtain and fit a beautiful new feature that will add considerably to the personality of the room.
Both fires and stoves are available in simple, modern shapes to complement the rest of the room, so getting hold of one doesn't have to mean giving in to traditional design. For example, take a look at the stunning Contura I4 – a wood burning stove with a subtle, dark frame and a large clear window that lets the colour of the flames add a gentle glow to the room, or the Evora – a gas fire with a glass front, available with a variety of frets and frames to precisely match your existing design.
For more information about getting a fire fitted, or restoring your old fireplace, simply contact ELB Fireplaces today on 01942 607 250 or email us via enquiries@elbfireplaces.co.uk.
Enjoy this article or what to know more?