Category: Gas Stoves | Published: 7 Aug, 2017
Choosing your first stove: FAQs
Buying your first stove can be a daunting and confusing process, and it's important to choose the right stove for your home.
In this guide, we'll answer some of frequently asked questions so that you can make an informed decision about the new addition to your home.
The most important factor to consider when choosing your first wood burning stove is quality. It needs to be well made, and from safe and durable materials. Chances are, you're going to be parting with a pretty large sum of money when you purchase your stove, so you need to ensure it's made to last.
What's the difference between multi-fuel stoves and wood burners?
Wood burner stoves give you the opportunity to burn just wood logs in your stove, to burn carbon neutral energy. Multi-fuel stoves are designed to burn a wider variety of materials, including wood, coal and paper – to name a few.
Here at ELB Fireplaces, we recommend that you burn wood wherever possible. Not only is this a cheaper way of doing things, but it's also more sustainable. However, many of our customers do like to have the freedom of a multi-fuel stove, as this means they can burn other materials if, say, their wood collection becomes wet.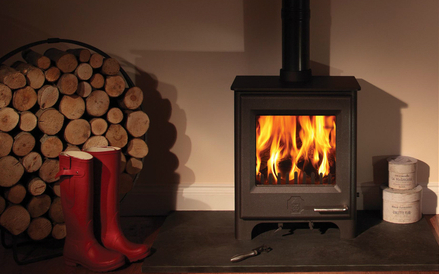 Which is better, a steel or a cast iron stove?
The main practical difference between a steel stove and a cast iron stove is that a steel stove heats up quicker, but doesn't retain its heat for as long as a cast iron stove. For this reason, it's important to consider what is more important to you – a stove that heats up quickly or a stove that will keep your home warm long after you've fallen asleep.
What size stove do I need?
The size of stove you need depends on a variety of factors, including the number of walls, windows, the size of the fireplace (if you have an existing one) and the age of the property. Here at ELB, we offer a full site audit to prepare your quote, and will be delighted to recommend some stoves that are suitable for your room and property.
What if I don't have a chimney?
If you don't have a chimney, you'll need to have a twin wall, insulated fire system installed. For more information on how we can install your stove this way, please contact us.
We hope you've found these FAQs helpful. If you have any more questions regarding choosing your first stove, please don't hesitate to chat with a member of our friendly team on 01942 607 250.
Enjoy this article or what to know more?