Category: Fires | Published: 9 Feb, 2018
The best fires for kitchens
It's an abstract idea and not one that is found in most homes, but a fire in the kitchen is a perfect finishing touch to add sophistication to any design, as well as bearing the benefits of a quick and simple way to heat up the room.
Why would you need a fire in the kitchen?
Although not a desperate necessity, a fire can bring cosiness and warmth to one of the most versatile rooms in your home. The kitchen for some is not just a place to cook, since it can be used for socialising or for recreational purposes. When playing host to a friends or family, the aura and warming presence of a fire certainly would not go a miss.
Of course, as well as the functional purposes, a fire can also be the perfect finishing agent to the design of your kitchen. Whether you have a traditional or modern kitchen, there is a model to compliment all styles.
Where would you put a fire in the kitchen?
With ELB Fireplaces' free-standing and electric fires, you have a lot of freedom of choice. It goes without saying, but you should only opt for an in-kitchen fire if you have the room and the free space, as you don't want your new addition to obstruct anything important, or to become a hazard whilst cooking.
Kitchen fires work best in the corner, facing doors from the corner out, not hiding behind them. They should also be placed as far away as possible from any appliances or standing objects such as tables, chairs and stools.
If used right, a small fire can add a beautiful rustic touch to your cooking space, as well as embracing the ability to quickly heat it up in the colder months which is perfect for sociable and leisure events.
What is the best fire for my kitchen?
A model that embraces sophistication and wears it so well is the Eko 5040. This electric and flueless fire is perfect for a kitchen as it is wall-mounted, keeping it well out of harm's way. This fire is sleek and stylish and would perfectly compliment a modern, contemporary kitchen.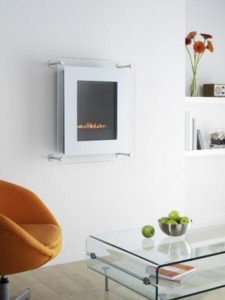 If you're looking for a no-fuss installation, then perhaps a free standing stove may be the better option. The Stockbridge may very well be the answer to your prayers! This stand alone model is easy to install and also the perfect size for a kitchen corner. The black gloss finish and sleek vintage style will complement any kitchen which embodies a rustic or vintage aesthetic.
One of the most compact models at ELB Fireplaces is The Contura 790 – this freestanding wood-burning stove presents a contemporary white design which would go well with any modern kitchen. The versatility of its design means it's a good shape for a kitchen and can sit almost against a wall (without the need for a chimney installation) keeping it in a safe and comfortable position within the room.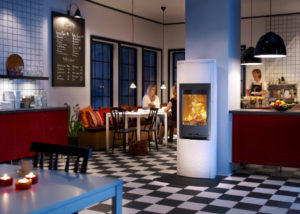 ELB Fireplaces are on hand to help instruct you on the best options for obtaining a fire for your kitchen. Just contact us here to find out how we can help.
Enjoy this article or what to know more?